From dog cart to national beverage wholesaler
When Hendrik olde Monnikhof started selling 'champagne beer' with his dog cart in and around Oldenzaal in 1918, he could not foresee that his business would become a nationally operating beverage wholesaler.
De Monnik Dranken today
Currently run by the 3rd and 4th generation, our family company has become a leading organization in the field of drinks. Throughout the years the company grew into employing over a 100 people and an assortment that covers around 9600 drinks and drink related products. As well as a superb range of spirits to choose from we also import a variety of wines into The Netherlands on an exclusive base, from over 35 different countries.
Our customer base includes wholesalers, retail organizations, wine and liquor stores, wine merchants, specialty shops and horeca business all over The Netherlands.
What we do
The strength and power of De Monnik Dranken
100 years of experience
De Monnik Dranken is a 100% family business that was founded in 1918 by Hendrik Olde Monnikhof. Hendrik Olde Monnikhof started his local company selling beer near Oldenzaal, using the dog cart as transport. After the Second World War Hendrik Olde Monnikhof was followed by his two sons Henk and Jan. Under their leadership the liquor trade was expanded with several trucks and an expansion of staff took place. In 1986 the current director Hans Olde Monnikhof, son of Henk, took over the company. In 2014, Luuk, Hans' son and currently commercial director, also entered the company. With Luuk, the fourth generation has entered the company.
Ask away!
Would you like to know more or do you have a question?
Don't hesitate to contact us.
Our advisors are ready to help!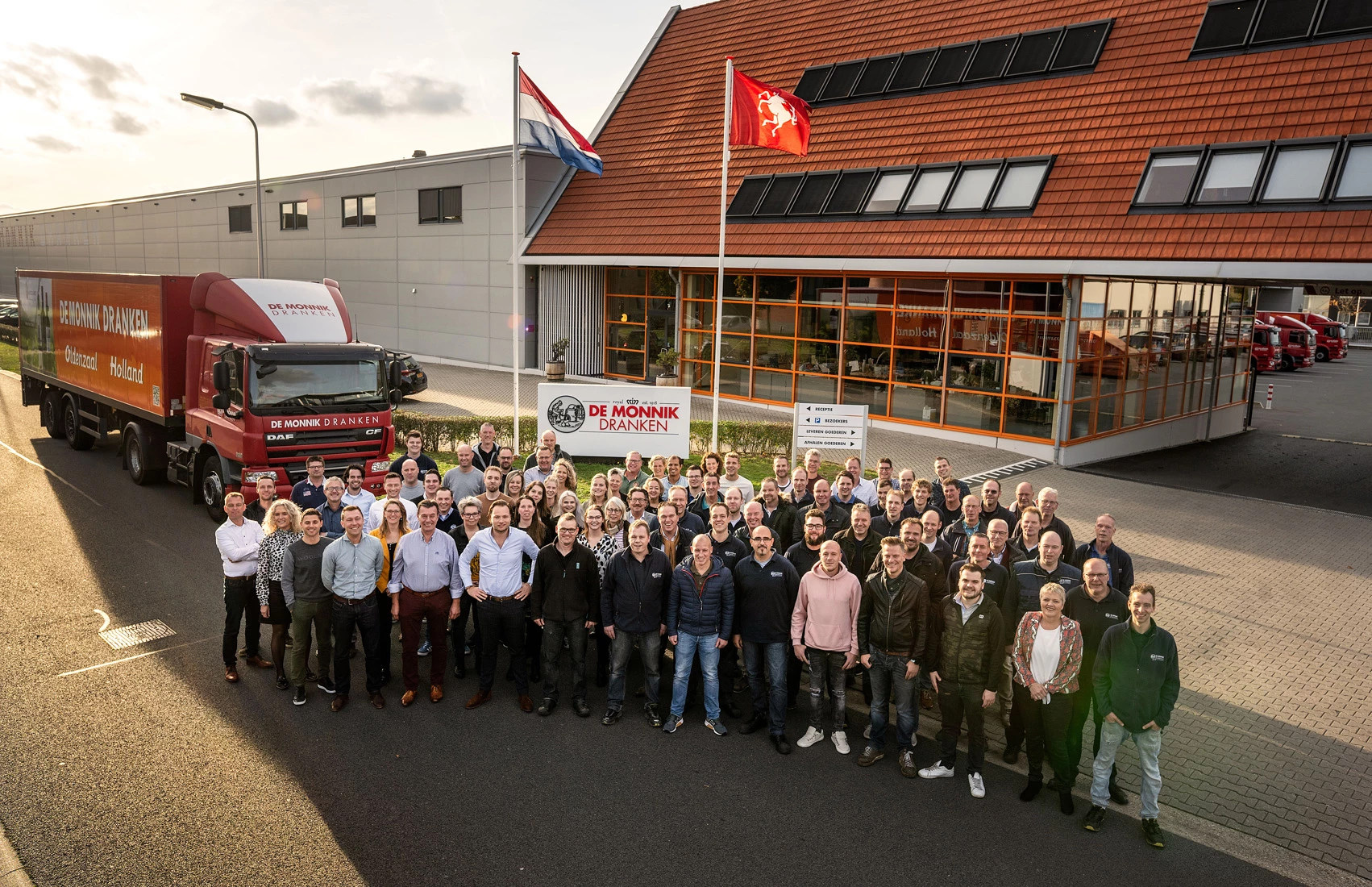 Our people
Our people make the difference for our company.
De Monnik Dranken employs over a 100 people. Together with our brands they make the difference. The team is flexible, happy to think along with you and their service is of paramount importance.
Proof of quality
Certificates
The year 2018 was a very special year for De Monnik Dranken. In the first place we celebrated our 100th anniversary in October 2018. In addition, Hans and Luuk Olde Monnikhof received the designation "Royal" in December from the King's commissioner in the province of Overijssel. Two important milestones that we are extremely proud of. In addition to the designation Royal we also have: