Big Peat Feis Ile 2019 Islay Whisky onderweg naar Nederland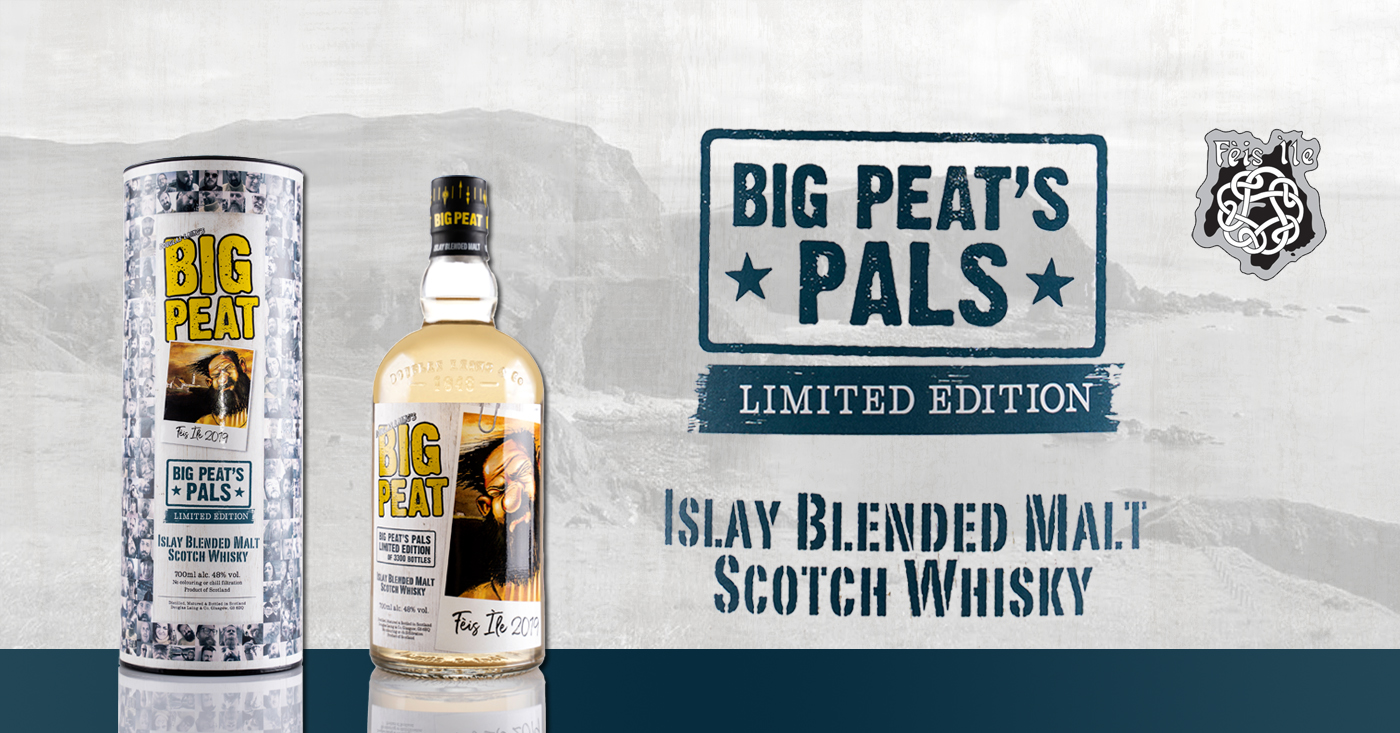 Big Peat Feis Ile 2019 Islay Whisky onderweg naar Nederland
OLDENZAAL - Woensdag 10 april 2019
Vrienden van Big Peat opgelet; Douglas Laing kondigt de komst van een nieuwe exclusieve limited edition aan, waarvan ook een aantal flessen voor de Nederlandse markt beschikbaar zullen zijn.
108646 BIG PEAT Limited Edition Feis Ile 2019 48% 0.70 ltr
Feis Ile 2019
Met veel genoegen presenteert Douglas Laing de Big Peat 2019 Feis Ile Edition. Deze limited edition wordt uitgebracht ter ere van Islay's jaarlijkse malt- en muziekfestival. Op de tube van deze bijzondere Big Peat editie zijn maar liefst 400 gezichten van Big Peat 'pals' fans afgebeeld. Deze 'Big Peat selfies' zijn door zijn fans ingezonden.
Notities
- Niet koud gefiltreerd. - Gebotteld op 48% vol. - Natuurlijke kleur. - Sherry cask finish - Neus: opent in maritiem; ziltig met vers zeewier. - Smaak: zoete trekjes van turfrook. Teer en (gebakken) smeuïg spekvet. - Afdronk: lange en olieachtige afdronk. Leer met tonen van citroentaart.
Allocatie
De allocatie van deze Big Peat limited edition verloopt via de Verkoop Buitendienst van De Monnik Dranken. De verwachting is dat wij
vanaf week 17 - 2019
kunnen uitleveren.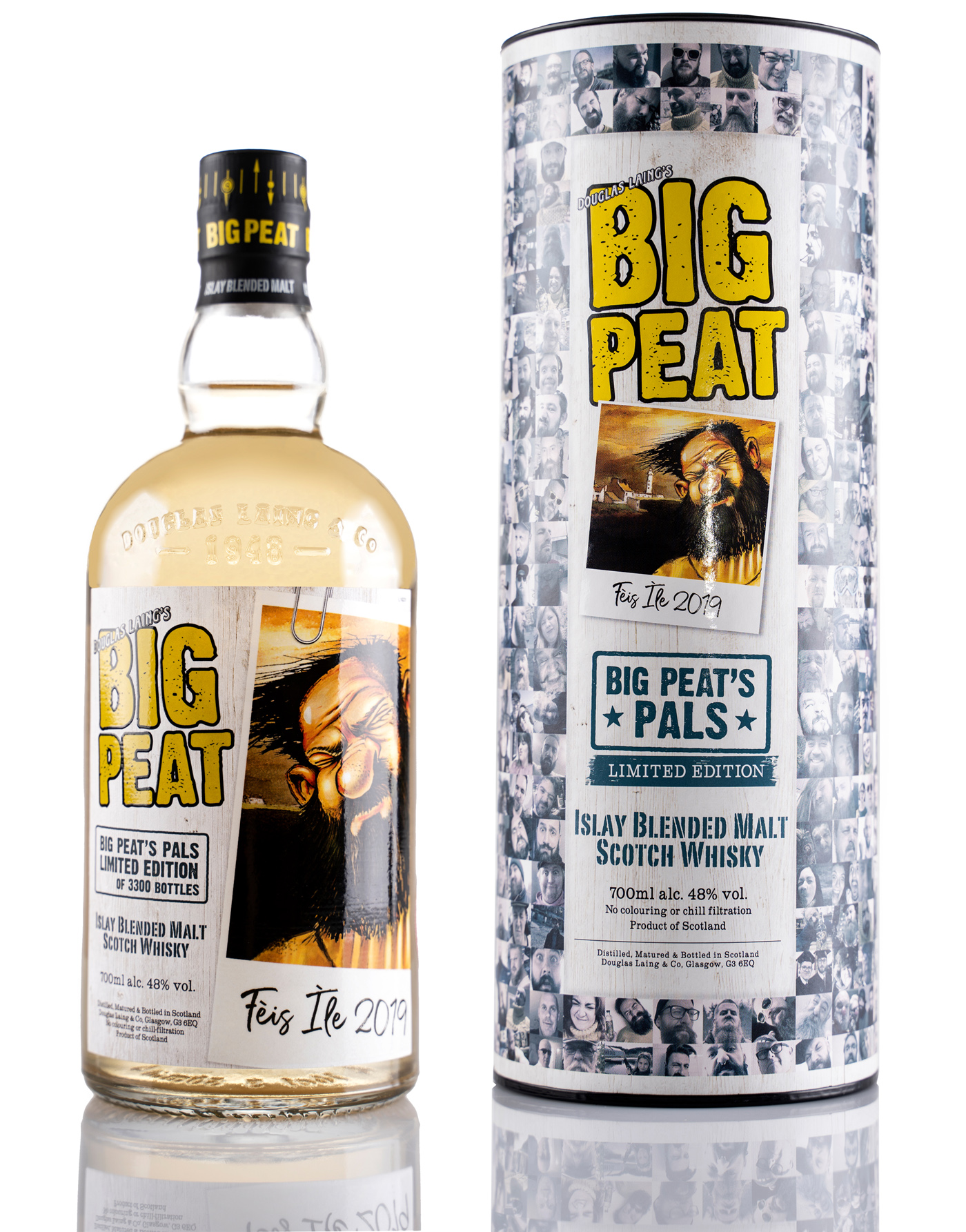 PERSBERICHT DOUGLAS LAING
"BIG PEAT'S PALS" EDITION FOR FEIS ILE 2019
Douglas Laing & Co., leading independent Scotch Whisky firm, today announces Big Peat's Limited Edition for Feis Ile, Islay's Annual Festival of Malt and Music.
400 Big Peat "pals"
The innovative packaging for the commemorative bottling features the faces of 400 of Big Peat's "pals" from all over the world, after fans of the brand were invited to submit their selfies via an online competition. The specialist spirit within is a unique batch of the cult Islay Whisky, carrying a marriage of Single Malts distilled at Ardbeg, Bowmore, Caol Ila and even the long-closed Port Ellen distillery, amongst others.
Big Peat
2019 marks 10 years since the launch of Big Peat, and the Douglas Laing team plan to celebrate with an online "birthday party" themed tasting. Hosted on Big Peat's Facebook profile during the Feis Ile Festival in late May, selected members of the community will be invited to join a virtual masterclass and enjoy samples of the classic Big Peat recipe, the new Feis Ile release, his recent 10 Years Old Limited Edition, and the oldest ever bottling released to date, the 26 Years Old "Platinum" Edition.
Cara Laing
Commenting on the release, Cara Laing (Director of Whisky and third generation in the family business) said:
"By marrying together a fine selection of our preferred Single Malts, only from Islay, we truly believe we have created the ultimate taste of Islay in Big Peat. His latest limited edition, the Feis Ile 2019 release, pays homage to his friends the world over, over 400 of whom feature proudly on the gift tube. This year, we celebrate 10 years since my father dreamt up Big Peat, and our extensive plans will ensure our Big Islay Pal celebrates in style all over the world!
Big Peat's Pals Feis Ile 2019 Limited Edition
In line with the family philosophy, Big Peat's Pals Feis Ile 2019 Limited Edition is not chill filtered, offered without colouring, and bottled at high alcohol strength of 48%. Just 3300 bottles will be available globally. Further details of Big Peat's online birthday party will be announced on his Facebook page.