HO, HO, HO! Big Peat Christmas Edition 2020 is in aantocht!!
De mussen vallen nog van het dak in Nederland, maar guess who's back? Big Peat natuurlijk! Big Peat, onze rokerige krachtpatser, kondigt alvast de Kerst aan en is terug met alweer de 10e kersteditie. Een stoere 'must have', gebotteld op een vatsterkte van 53.1% vol. Non-chill filtered en no colouring.
Deze nu al legendarische Big Peat houdt je lekker warm gedurende de feestdagen. Big Peat is als een geschenk door je schoorsteenpijp gevallen. Het rokerige van de schoorsteen komt dan ook wederom terug in deze editie. Bestel nu, want OP=OP!
109658 BIG PEAT Christmas Edition 2020 Islay Blended Malt in gift tube 0.70 ltr.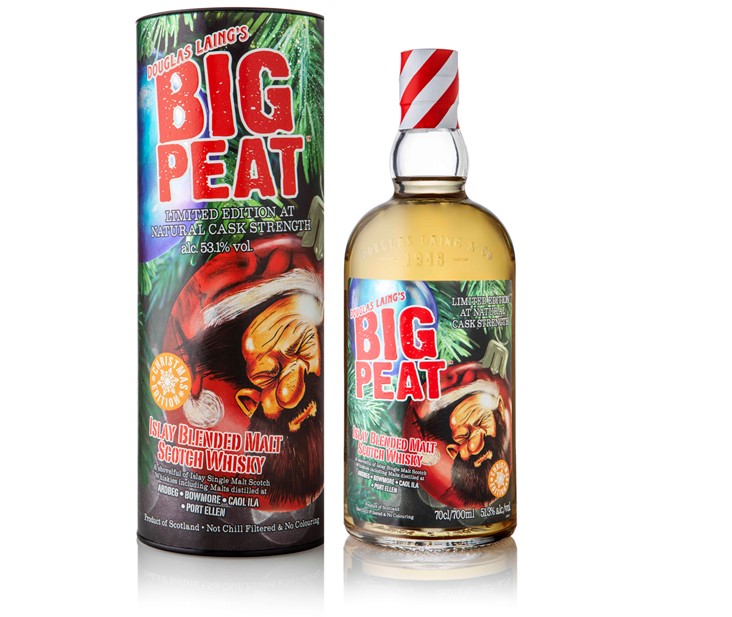 Big Peat is voorzien van een prachtige kerstmuts die weerspiegeld in de kerstbal van de kerstboom.
Traditiegetrouw wordt "hij" wederom gebotteld op een winter verwarmende vatsterkte van 53,1%.
Limited Edition / Collectable.
Niet koud gefiltreerd.
Natuurlijke kleur.
OP=OP!
Allocatie via buitendienst
De verwachting is dat bovengenoemde limited edition per eind september (+/- week 40) kan worden uitgeleverd. De allocatie zal via de buitendienst van De Monnik Dranken geschieden.
Persbericht Douglas Laing
Hieronder het officiële persbericht van Douglas Laing:
BIG PEAT ANNOUNCES "HIS" 10th CHRISTMAS
LIMITED EDITION AT CASK STRENGTH
Whisky Distiller, Douglas Laing & Co, today launches the Big Peat Christmas 2020 bottling, a punchy Cask Strength Limited Edition release that joins the award-winning Islay Malt Scotch Whisky range.
The Glasgow-based family business, released Big Peat's first Christmas bottling in 2010. Since then, the iconic Ileach fisherman has enjoyed exponential growth the world over, with a number of market-exclusive bottlings, aged limited releases, innovative cask finishes and a cult following on social media contributing to his success.  
This 10th annual festive bottling, depicts Big Peat sporting a Santa Claus hat reflected in a bauble nestled deep within the Christmas tree. As is tradition for the Christmas Edition, "he" is bottled at a winter-warming Cask Strength of 53.1% and happily offered without colouring or chill-filtration. 
Fred Laing, Chairman of his family's firm, comments:
"Established, indeed "born", in 2009, my boy Big Peat is a unique marriage of 100% Single Malts from our preferred Islay distilleries. Accordingly "he" has many loyal fans of the phenol around the world. In the cask strength Christmas Limited Edition we certainly get to see his more robust and intense side. This year, using our regularly selected Single Cask Single Malts but always in different percentages, expect an amplification of peat-smoke, dried seaweed and coal dust with an underlying sweetness to his feisty spirit. Big Peat's Christmas bottling has become synonymous with the festive season and I always look forward to enjoying a dram with him over the holidays."